I am so excited to be working on the updates and renovations to a 1960s home that has been barely touched over the past 50 years. Original bathrooms, retro lighting and wallpapers are fun and a great jumping off point, but to bring this home back to it;s old glory we will be working on this one for quite some time.
I am not looking to create a 1960s showhouse or a "theme", but when we make decisions to bring it current we will include nods to the past.
There are some great resources for retro inspired products and the website retrorenovations is a great place to look to for ideas. For example, did you know Formica will be 100 years old in 2013 and will be introducing an anniversary collection bring back new takes on original patterns? We are painting the dark wood paneling in the kitchen gray, so I am hoping for silver flecked countertops ( a nod to the old gold flecks) which would look great with our wall color choice and stainless appliances.
1960s kitchen from House Beautiful…
 Houzz.com
In the bathrooms we currently have some super low original vanities with funky retro hardware, lighting and tile. In most cases I push a homeowner to keep anything original if it is in good shape and is fully functioning. In one bath we are trying to keep the yellow and grey tile and make it feel more clean and modern. Unfortunately in another bath we have discovered shower floor repairs are needed, but we don't want to do a full gut job, so new tile that mixes well with the old is essential.
 Great 60s colors and inspiration made more modern.
Luckily the homeowners are not afraid of creative use of color and really like the popular colors of the 1960s. We will incorporate pinks, green and aqua with more current neutrals.
Bringing in handed down family furniture mixed with new items will also be a great nod to the past. In the old dining room turned music room we will be using grasscloth wall covering, mirrored walls, a very old grand piano and a classic record player.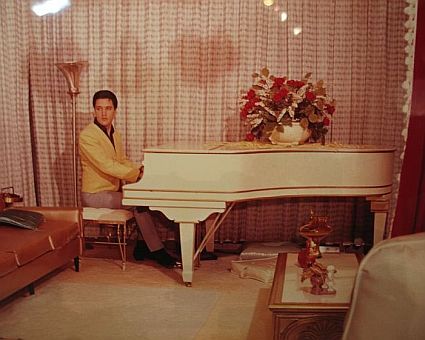 In the old living room, now dining room we will be able to seat 16 guests at a refurbished table that once lived in a law firm conference room many years ago. New lighting painted in a bold green looks great with the mid-century sideboard with its original hardware.
I could go on and on, room by room, but this 3000 plus square foot house is a huge undertaking and will be in progress for quite some time. I will show you a few before photos, and will post updates as they happen. Also, some ideas and inspirations I have for the renovation. So all of you retro fans, here is how you do it- in 2012.
Inspiration…dream home of years past, Realization…all things old can be new again.